New version available now! Compute Shaders! Japanese! And more...
Today we are proud to announce one of our bigger KodeLife updates: Many under-the-hood improvements have been implemented but the two key features we are most happy about are the addition of compute shaders and UI language localization. So Much. Work. Read on...
Compute Shaders
This new feature starts small but will eventually become huge. Being able to harness GPU power for heavy-duty number crunching has become commonplace in numerous fields, from AI, scientific research, fintech, cryptocurrency and cryptography ... well, KodeLife now does compute shaders!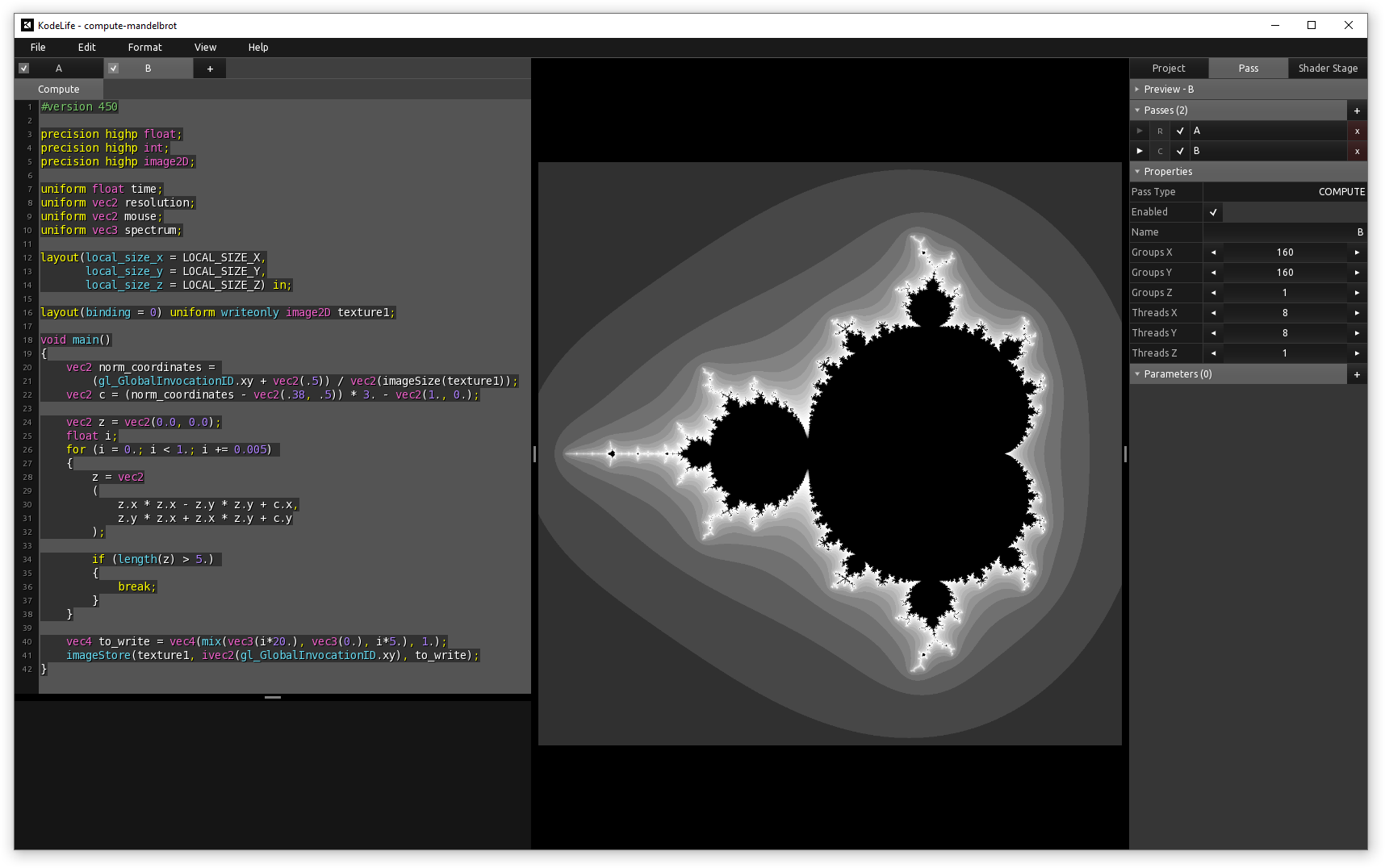 Admittedly the current iteration is aimed at image manipulation but that is just our doorway into the room. Once development gets up to full speed expect to see KodeLife become the defacto, cross-platform, OS / API agnostic real-time compute shader editor. What a mouthful. We cannot wait to see what people create with this feature.
UI Language Localization
This type of feature doesn't seem like much ... unless you don't read or speak English i.e: 80% of the world's population. Hexler firmly believes that everyone on this planet should have the right to be able to learn new skills – including coding – and our contribution towards the goal of education includes lowering as many barriers to entry as possible.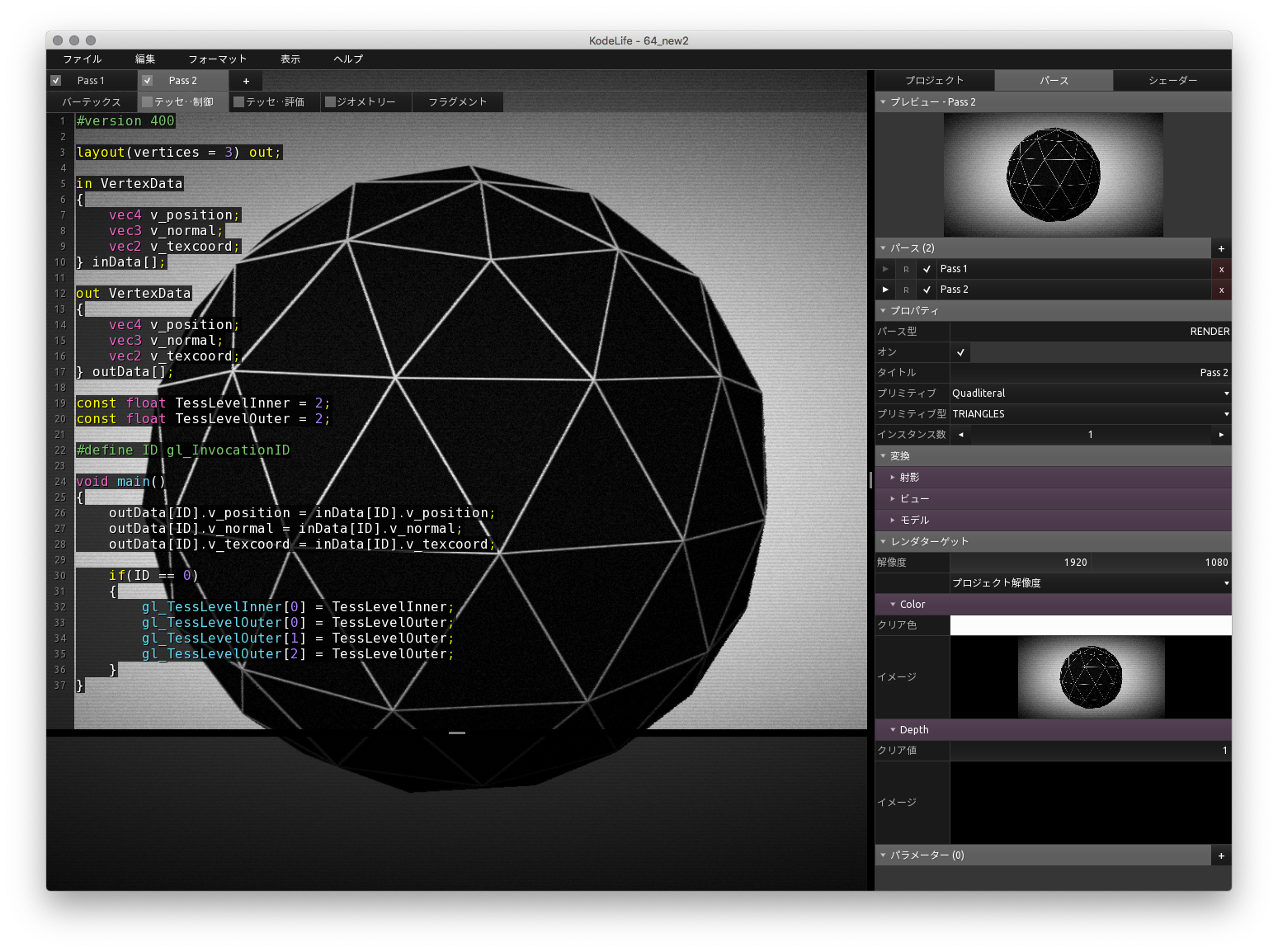 At the time of writing this post, KodeLife runs in either English or Japanese. We have plans to include Spanish and Simplified Chinese in future versions, so if you would like to assist with these – or any other languages (or correct any translation errors!) – please drop us a line.
PNG Image Export
We feel slightly silly omitting this feature for so long. From the File menu you can now save a PNG capture of the main output. Astute users will notice the suffix '0000' as part of the file name. Could this mean ... export image sequence is coming?
From the present, to the future
The rest of this blog post reveals sneaky previews of some exciting future features, so grab a coffee, there's a lot. To help us turn our KodeLife dreams into reality Hexler is hiring new developers and programmers, which leads us neatly onto licenses...
Licenses now available: Early supporter discount!
The easy way for us to gauge – and finance – future KodeLife development is to start selling licenses. Existing KodeLife fans and users can get in now with a very generous discount on our one-time, single purchase licenses.
This early supporter discount will only run for a limited time. We thank you in advance for your support! KodeLife thanks you.
Fund Future Development! Get Customer Support! Be Awesome!
Get a License
KodeLife: The Future
KodeLife contains features not present – or even possible – in other competitive shader editors. What follows below is a constantly updated list of upcoming features. Basically, future features that will appear after licensed users start signing up. If you have any ideas or comments please do contact us. But for now, enjoy these new toys...
1. MIDI Learn. Also OSC and Gamepad.
Power is nothing without control. We briefly demoed KodeLife's MIDI Learn feature during our presentation at the 2019 LPM Festival … and we're almost ready to make this public.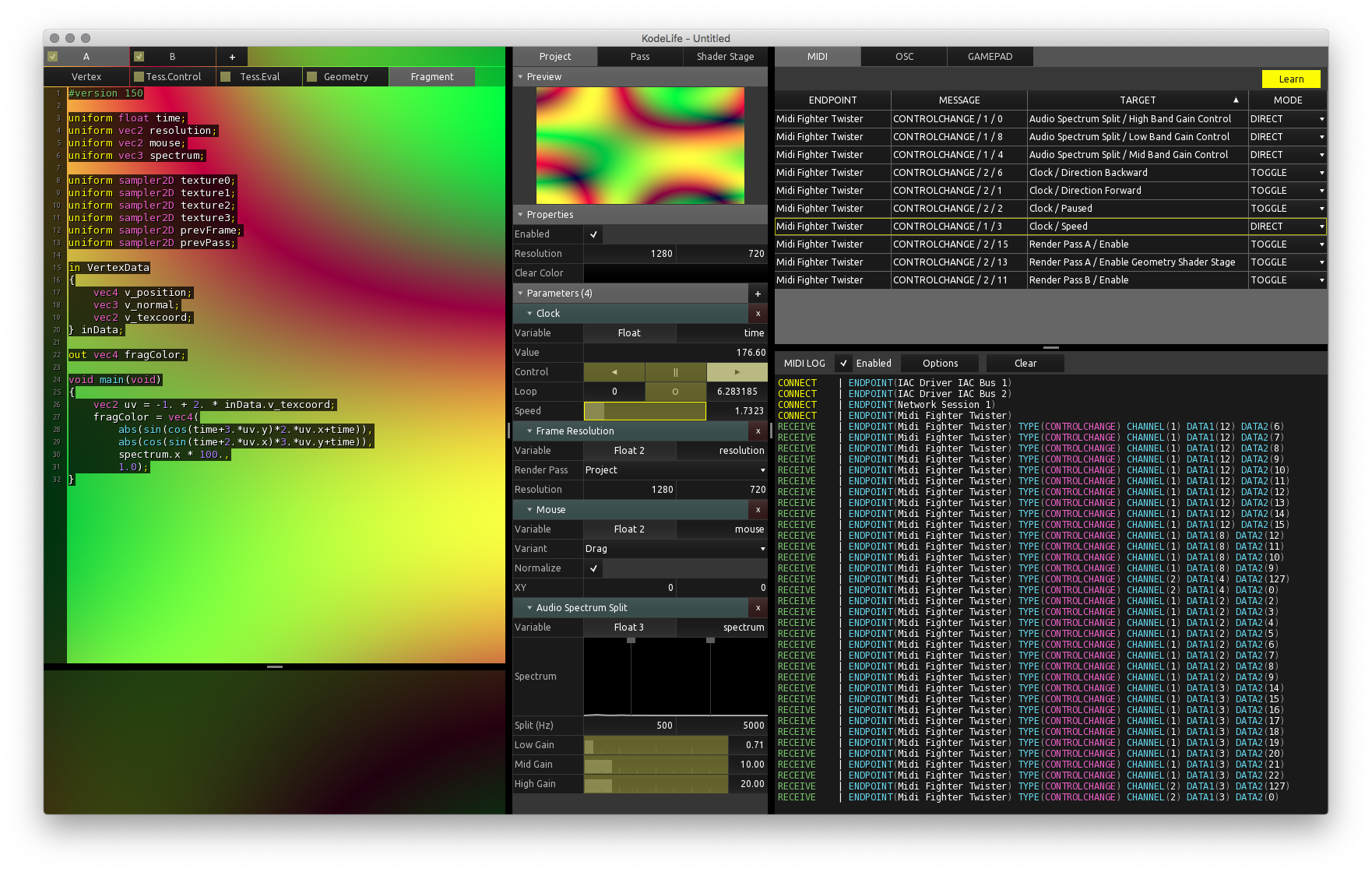 Future Feature
Users of a popular *cough* Live music DAW might recognise how KodeLife's MIDI learn works. Turn on control mapping, click part of the interface, wiggle a knob, done. Want to change a setting? Wiggle a different knob. For performing artists, or GPU developers working with interactivity, MIDI Learn and OSC / Gamepad control in KodeLife is going to be very helpful.
2. Patchable Node Editor
We love node interfaces. From Nuke and Fusion to Quartz Composer and everything in between, there is something very satisfying about linking blocks together with virtual cables.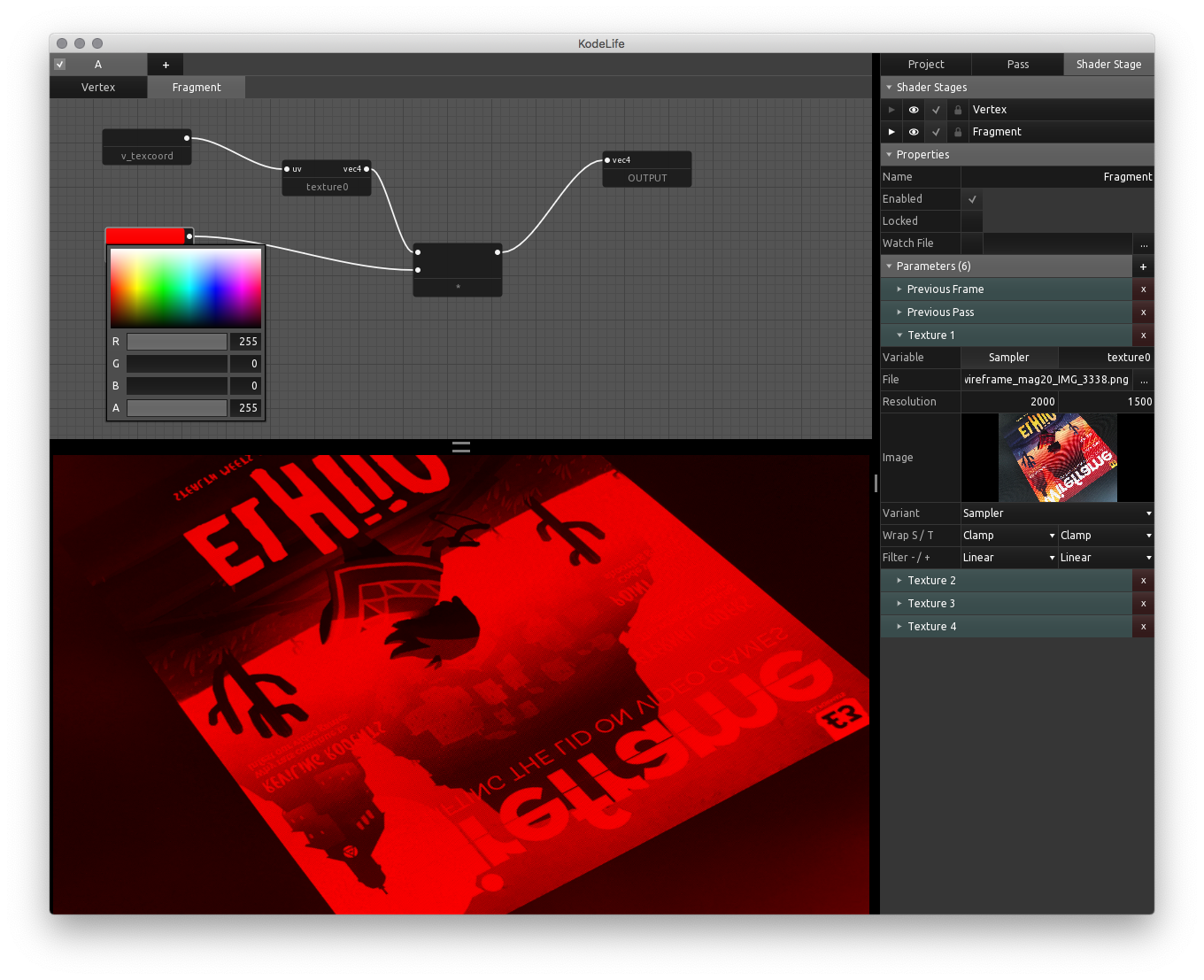 Future Feature
Not going to lie, this feature is going to require some effort in the UI department before it hits public release, but we have node patching in our internal alpha, and damn is it fun. Quickly assemble scripts. Create groups and macros. And as a teaching or learning aid this a great way to encourage experimentation without the hang-ups of top-to-bottom text based coding.
3. Looped Movie Recording
The single most requested feature in our KodeLife e-mail inbox. It's coming! While KodeLife runs, export a PNG image sequence to disk, looped or one-shot, at whatever framerate, which you can then convert (using any third party compression app) to the video codec of your choosing.
We opted for image sequence export due to simplicity, high image quality, minimal processing overhead, platform and OS agnostic output ... and did we mention simplicity? You can vote for this feature by grabbing a license.
4. Document Includes
Although lacking a screenshot (for now) we want also to briefly mention KodeLife Document Includes a.k.a. reusable code fragments. This feature is not only aimed at the working developers trying to manage complex shaders, but also for live performers and artists who want to quickly access blocks of code without resorting to copy & paste.
We are working towards an extended KodeLife document structure that contains a workspace of interlinked code fragments and chunks – thus making complex shader projects portable between entirely different platforms without the issues of missing or forgotten files.
5. More Localization: Chinese and Spanish and...
KodeLife already runs now with English and Japanese localization, and work is underway to implement Chinese and Spanish very soon.
6. More Compute Shader Functionality
The current version of KodeLife establishes our commitment towards providing compute shader functionality – at this stage in terms of image manipulation – but our intention is to see KodeLife become a fully featured real-time compute shader editor, alongside traditional GPU API shader coding.
And much more to come...
This is just a taste of the future features we have planned for KodeLife – bookmark this page or receive RSS updates when we add new information. Work will always continue on KodeLife but if you want to hurry things up, please consider supporting our work with a license purchase. Thanks!
Fund Future Development! Get Customer Support! Be Awesome!
Get a License
No DRM. One-time Purchase.
We hate subscriptions: Buying a KodeLife license is a one-time deal. We hate DRM and intrusive 'call-home' checks: KodeLife doesn't do any of that either. You can run KodeLife on as many machines and operating systems as you own.
Large corporate users will need one license per head, but we won't hassle individual shader coders, small studios and visual artists with onerous license checks. Contact us if you have any licensing requests ... we're more than happy to work out deals for bulk licenses or academic sites. We hate asking for money – and internal discussion about how to fund KodeLife's future has nagged us for a couple years – but at this stage in KodeLife's development we feel that it's finally worth something.
Not to mention our 4+ year track record of 100+ beta releases, which can be relied upon as a sign of our goodwill towards development! Thanks again.