TouchViZ
Professional, portable VJ system
for iPad
At home or in the club, professionally or just for fun, create impressive visuals right on your iPad.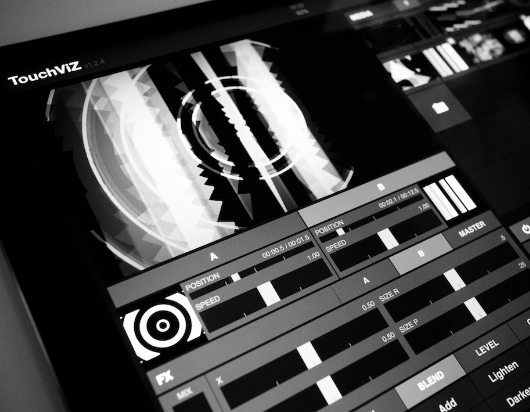 Screenshots
Features
Import up to 125 videos into your set via iTunes File Sharing or from the iPad's library or camera roll
Playback and mix two channels of video with independent playback speed control and a selection of 10 blend modes
Display the output on an external screen or projector using any iPad-compatible video-out adapter
Use the iPad's front and back-facing cameras as input to integrate live footage into your set
Record video of the app's output in real-time, and use immediately in your set or transfer to a PC later
Apply one of 54 effect filters to each channel and the master output
Control effect parameters using the multi-touch enabled preview area
Preview the output in full-screen on the iPad
Save and load your set to recall, backup or transfer sets between iPads using iTunes File Sharing
Configure the interface layout to your preference
10 demo clips by hexler and pixeldelay included
CoreMIDI support allows full control of TouchViZ wirelessly using OS X CoreMIDI Network sessions, using compatible iPad MIDI interfaces such as Alesis iO Dock, iRig MIDI, iConnectMIDI, MIDI Mobilizer II, Yamaha i-MX1, or by connecting a compatible USB MIDI-controller using the iPad Camera Connection Kit
Open Sound Control support allows full control of TouchViZ over WiFi from any application that supports OSC such as Max/MSP, PureData, Max4Live, TouchOSC and others
Built on the latest iOS and OpenGL ES technology
...and many more features to be added in future updates!
Requirements
Compatible with iPad 2 / Mini or later
Requires iOS 5.1.1 or later
Manual
Complete online documentation can be found
here
.
Support
If you run into problems or have feature suggestions,
please contact us or visit the forum and let us know!
Apple, the Apple logo, iPhone and iPad are trademarks of Apple Inc., registered in the U.S. and other countries. App Store is a service mark of Apple Inc.