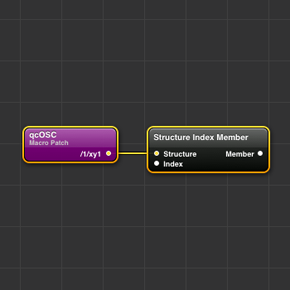 I've uploaded a new version of qcOSC, my Quartz Composer OSC receiver plug-in.
As promised the plug-in now supports multi-parameter messages (for which it creates "Structure" outlets) and can receive strings (for which it creates "String" outlets, duh!). You might want to remove all outlets in your compositions that already made use of the first parameter of multi-parameter messages to let the plug-in re-create an outlet with the new type.
I've tested it on both Leopard and Snow Leopard and it's all hunky dory as far as I can see. Enjoy and grab it here.